Edward IV
In my opinion, Edward IV of the House of York is perhaps the most underrated of all English monarchs. He was incredibly popular during his lifetime, had many positive qualities as a leader and boasted a number of great achievements but these things tend to be generally lost on the historical consciousness due to the fact that Edward ruled (for two non-consecutive reigns) during the chaos of the Wars of the Roses. He was a capable soldier and military commander and was never once defeated on the field of battle; his martial talents proved crucial in his struggle to wrest the English crown from his Lancastrian rival Henry VI and subsequently bring peace to the shattered kingdom. Once on the throne he proved to be a cultured and well-learned King, becoming a keen patron of literature and the arts. He was also a shrewed businessman with strong ties to England's prosperous merchant class, a fact which made him the first financially-stable monarch for centuries.
Edward IV did have one major weakness, however, and it was this weakness that most people tend to remember him for. He was a notorious womaniser and easily susceptible to the charms of any woman who was intelligent enough to know how to exploit the fact. Settling down with a wife only served to exacerbate the problem by triggering a major political crisis. Edward was the first English monarch to marry a woman out of genuine love for her rather than for political, financial or diplomatic gain. His marriage to Elizabeth Woodville would cause him considerable grief during his lifetime but it was not until after his death that it would prove to be instrumental in the dramatic self-destruction of the House of York and the rise of the Tudor dynasty to power.
Shady Marital Dealings
The story of Edward IV of York's sub-career as the English monarchy's most infamous "player" came shortly after his forces captured London and proclaimed him King in March 1461. At that point Henry VI was still alive and had support in the north of England so the eighteen-year-old Edward was obliged to finish the job of crushing the Lancastrians, which he duly did at the bloody Battle of Towton near York on March 29th. Following this victory, Edward's position on the throne was secure; Henry VI fled to Scotland with his wife and son where he remained until he was captured in 1465 and imprisoned in the Tower of London. With his enemies now largely out of the way, Edward was able to get down to the serious business of kingship and all the perks that came with it.
It was in around late-1462, when Edward was twenty, that he was suddenly petitioned out of the blue by a young widow of about twenty-five. She was Eleanor Butler, the daughter of Sir John Talbot, Earl of Shrewsbury, who had commanded the English army at Castillion (the last battle of the Hundred Years War, during which he was killed) back in 1453. Lady Eleanor had gone to the King in an effort to recover the property of her late husband, Sir Thomas Butler, which had been seized by the Crown on a legal technicality following his death. Edward understandably became rather smitten with this attractive damsel-in-distress and it is said that he offered to return the land she asked for in exchange for sexual favours. When Eleanor refused his advances, Edward resorted to Plan B by offering her marriage, a proposal which Eleanor seemingly found far more acceptable to her ladylike sensibilities. The two agreed to enter into a contract to marry and were formally betrothed in a private ceremony.
So is this story true? The revelation that Edward IV had been betrothed to Eleanor Butler was eventually made by a priest, Robert Stillington, who claimed to have officiated at their betrothal ceremony. It can certainly be said that Stillington did very well for himself under Edward's rule; the King appointed him Bishop of Bath and Wells and gave him a number of top government and court offices, including Keeper of the Privy Seal and Lord Chancellor. This could mean that Stillington was effectively being bribed by Edward to keep silent over the issue of his betrothal to Eleanor. That silence would certainly be needed once another attractive lady had made her way into Edward's life.
Elizabeth Woodville
Elizabeth Woodville is one of the most controversial women to have ever been Queen of England. She first came into contact with Edward in 1464 under the exact same circumstances that Eleanor Butler had done, having gone to him in an effort to get back the estate of her deceased husband, Sir John Grey. Once again the King became besotted and tried to proposition Elizabeth for sexual favours to the point that she had to fend him off with a knife. Edward then pulled the old trick of offering marriage and Elizabeth accepted. It was not just a betrothal this time, however; it became a full marriage when the pair were secretly married on May 1st 1464 at Elizabeth's family home in Stony Stratford, Buckinghamshire. It is not clear as to exactly way Edward decided to go through with the marriage on this occasion although there is every chance that he may have actually genuinely fallen in love.
Edward kept his clandestine marriage to Elizabeth Woodville secret for a while. The banns of marriage had not been proclaimed before the wedding in order to prevent either Eleanor Butler or the King's ministers from finding out about it. Eleanor was subsequently shut away in a convent to keep her quiet, and she died in June 1468. By then the Woodville marriage had become public knowledge (Edward revealed it to his astonished council in September 1464) and the whole of Europe was scandalised. Marriage had long been viewed among the ruling classes as a matter of political expediency; it was all about arranging the best political alliances of power and property. Love did not come into it. Elizabeth Woodville, who was impoverished and of decidedly common birth, did not fit this stoic vision of the perfect royal bride.
Elizabeth Woodville
The English ministers who had been trying to negotiate a proper royal marriage for the King were left angry and humiliated by the revelation that he had gone behind their backs and married a penniless nobody. One such minister was Edward's primary adviser and supporter Richard Neville, Earl of Warwick. Warwick's support had been instrumental in helping Edward to snatch the throne from Henry VI, hence his famous nickname "the Kingmaker" and upsetting him was a serious mistake on Edward's part. The young Edward was too headstrong to realise this at the time and proceeded to alienate Warwick and his other supporters even further by lavishing Elizabeth's family with honours, wealth, estates, titles and decent dynastic marital opportunities; her father Richard Woodville was bestowed with the title Earl Rivers in 1466. As the power of the upstart Woodvilles grew, the situation moved steadily towards a confrontation between them and the more established noble families, with King Edward himself caught in the middle.
The turning point came in 1469 when Warwick and Edward's flighty younger brother George, Duke of Clarence decided to defect to the Lancastrians and ally themselves with Henry VI's Queen, Margaret of Anjou, who was by now living in her native France with her son. The following year Warwick and Clarence returned to England at the head of an expeditionary force backed by the King of France, their aim being to overthrow Edward IV and restore Henry VI. Edward was caught by surprise and had to flee the country along with his youngest brother Richard, Duke of Gloucester while a pregnant Queen Elizabeth took refuge in the sanctuary of Westminster Abbey. A befuddled Henry VI, by now almost totally incapacitated by mental illness, was released from the Tower and restored to his throne in October 1470. Warwick and Clarence ruled England through him for the next six months while Edward IV, in exile in Burgundy, plotted his counterstrike.
The Skeleton in the Closet
In April 1471 Edward IV reconciled himself with his brother Clarence and returned to England to reclaim his lost crown, taking full advantage of the breakdown in diplomatic relations between the French backed-Warwick and the Duke of Burgundy. Warwick was killed at the Battle of Barnet on April 14th and the remaining Lancastrian leaders, including Henry VI's son Prince Edward, were defeated and killed at the Battle of Tewkesbury on May 4th. Henry VI himself was recaptured by the victorious Yorkists and re-imprisoned in the Tower where he was murdered a few days later. The entire Lancastrian cause was now dead in the water and Edward IV's rule was now practically unopposed. The only other Lancastrian still alive with any sort of claim to the throne was Henry Tudor, who now seemed condemned to a life in exile on the continent.
The fact that Edward IV was now unopposed subsequently meant that the Woodvilles were unopposed as well, and their power and influence only grew greater following Edward's restoration. It wasn't long before the musings of resentmen were heard again and this time they came from within Edward's own family. The source of it, predictably, was Clarence; he was jealous that the spoils of Edward's victory against Warwick and the Lancastrians were going mostly to the Woodvilles and to Richard of Gloucester rather than to himself. He was also resentful of the fact that Edward now had sons to succeed him (Elizabeth had given birth to the first while in sanctuary at Westminster). It was around this time that Clarence first began spreading rumours that his brother's marriage to Elizabeth Woodville was not all that it seemed, as well as other rumours which
called into question the King's own paternity
. Who was the source of this information? Chances are that it was the priest-on-the-make Robert Stillington, who had become closely acquainted with Clarence during the 1470s. What was clear however, was Clarence's motive; if he could successfully remove Edward and/or his children from the succession on the grounds of their parents' marriage being found to be invalid, then Clarence would once again be next-in-line to the throne.
Edward IV obviously could not tolerate the stink that his brother was kicking up, especially when there was a serious risk of Stillington spilling the beans on the King's contract to marry Eleanor Butler. Clarence had tested his brother's patience one too many times and in 1478 he was convicted of treason and privately executed. The story goes that he was drowned in a butt of malmsey wine. Stillington spent a year locked in the Tower after which, perhaps nervous of the power of strong drink, he maintained a sensible silence until Edward suddenly fell ill and died in April 1483. The dead King's son Edward V was only twelve at the time of his succession and therefore needed a regent to act as his guardian and protector of the kingdom until he came of age. That regent, according to the will of Edward IV was to be his remaining brother, the ever-loyal Richard, Duke of Gloucester.
The Bombshell
The appointment of Richard, Duke of Gloucester as protector triggered a brief game of cat-and-mouse between himself and the Woodvilles; both factions were eager to be first to take control of the young Edward V as doing so would mean safeguarding their positions (and their heads). Elizabeth Woodville moved first by sending her brother Anthony, the 2nd Earl Rivers and other relatives rushing up to Ludlow Castle on the Welsh border, where the King was staying in his prior capacity as Prince of Wales. From there they hoped to quickly whisk him back to London and install him on the throne before Gloucester could react, thus giving them control of the government. Gloucester did react, however, and had moved quickly southwards from his stronghold in the north. The Woodvilles were intercepted, accused of treason and either imprisoned or executed while Edward V was taken into Gloucester's custody at Stony Stratford and escorted onwards to London. Elizabeth, suspicious of Gloucester's motives, once again took up sanctuary at Westminster Abbey upon hearing of what had happened, taking her younger son Richard, Duke of York and her daughters with her.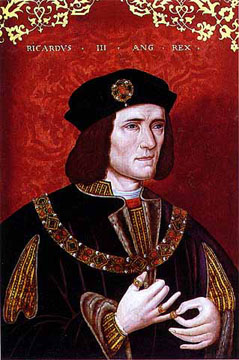 Richard III
Once in London, Gloucester installed Edward V in the Tower of London (as was customary for a monarch awaiting coronation) and had his position as protector confirmed. Not even the walls of Westminster Abbey could protect Elizabeth from Gloucester's threats of force and she was forced to relinquish her younger son to the care of his uncle; Prince Richard was reunited with his brother at the Tower in June 1483. It was shortly afterwards that the late King Edward's little secret was at last properly revealed when Robert Stillington at last spoke up and informed Gloucester of the prior marriage contract with Eleanor Butler. Stillington's story, if true, would mean that Edward IV's marriage to Elizabeth Woodville was bigamous and that subsequently Edward V could not be King because he was illegitimate. Sensing the golden opportunity to clear a path for himself to the throne (Clarence's children had been already barred from the succession when their father was executed), Gloucester decided to go along with the Eleanor Butler story, which was first made public in an open-air sermon given by the theologian Ralph Shaw on June 22nd at St Paul's Cross outside the cathedral in London.
Having begun the campaign to win over public opinion, Gloucester next turned to his ally Henry Stafford, Duke of Buckingham, who was tasked with the greater task of winning over the people that mattered, the nobles, clergy and commoners that constituted England's Parliament. By June 25th Parliament had collectively agreed with Buckingham that the new King and his brother were indeed illegitimate. They passed the Act Titulus Regius which formally declared the children of Edward IV and Elizabeth Woodville to be ineligible for the throne. It also effectively handed the Crown to Gloucester, who was the next legitimate successor by law; he "reluctantly" accepted. On July 6th 1483 Gloucester was crowned King Richard III. His two disinherited nephews remained at the Tower until they disappeared off the face of the Earth in the late Summer of 1483. Presumably murdered on the orders of the new King, they were never seen alive again.
Summary
Edward IV's notorious way with women ultimately proved instrumental in the eventual collapse of the Yorkist dynasty. His marriage to Elizabeth Woodville was unpopular with the nobility and left him vulnerable during his first reign. Even after Edward had got rid of the majority of that opposition there remained the spectre of his previous little mistake in the form of his prior contract to marry Eleanor Butler. Getting rid of his troublesome brother George, Duke of Clarence provided a short-term solution to the problem but Edward made a major error by not taking the opportunity to get rid of Robert Stillington as well. Despite everything that the King had done for him in exchange for his silence, it was Stillington's testimony that eventually proved to be the smoking gun which allowed Richard of Gloucester to bump off the Woodvilles and seize the throne from Edward's son.
Of course we all know what happened next. Richard III's twenty-six months on the throne were dogged by the mystery of what had happened to the Princes in the Tower and his opponents were increasingly drawn to the banner of the exiled Lancastrian Henry Tudor. Henry invaded England in 1485 and defeated and killed Richard at the Battle of Bosworth Field, after which he was crowned Henry VII. Richard III's fall was the final undoing of the House of York, concluding a process of violent self-destruction which had begun with his brother's secret marriage contract with Eleanor Butler more than two decades earlier.
Despite this, however, there was something of a redemption of Edward IV during the reign of Henry VII. The new Tudor King needed to shore up
his own dodgy claim to the throne
and it was decided (some time before he actually took the throne) that the best way to achieve this would be for him to marry Edward IV's eldest daughter Elizabeth, a direct descendant of the Plantagenet monarchs, thus ensuring that his descendants would be of the proper blood royal. But Elizabeth and her siblings had, of course, all been declared illegitimate by Act of Parliament so that had to be dealt with first. Richard III was subsequently written-off as a regicidal usurper by Tudor chroniclers in a successful effort to discredit him while Henry had
Titulus Regius
revoked and destroyed any documents he could find which referred to either Edward IV's marriage to Elizabeth Woodville or the legitimacy of their children. This was done so efficiently that only one surviving copy of
Titulus Regius
has ever been found, which is how we know that it ever existed at all. Henry VII and Elizabeth of York were married in January 1486 and their union ensured the return of the blood of Edward IV and his controversial Queen to the line of succession.